🇵🇱 Przejdź do polskiej wersji tego wpisu / Go to polish version of this post
Do you remember my tool called Twittodon? I wrote about it here. It was a tool for verifying the connection between Mastodon and Twitter accounts. I used the past tense because unfortunately, since yesterday, it's not working correctly and there's a good chance it never will again. All of this is due to the latest significant steps taken by Twitter.
It all started just over half a year ago when shortly after Elon Musk bought it, access to the Twitter API started to be restricted. Many unofficial clients ceased to exist at that time. A really big migration of people to Mastodon, and to the Fediverse in general, began. Twittodon gained immense popularity then, and the lack of access to the API was not an obstacle because the operating principle relied on the use of the Nitter tool, which allowed access to Twitter content by scraping it without utilizing the API.
However, yesterday a new Twitter policy was implemented, which introduced the requirement of having an account to access tweets and profiles. This rendered Nitter useless, along with many other developer solutions that were still functional despite the lack of access to the API. Unfortunately, Twittodon is one of those solutions.
And that's not all, as the next step planned by Elon is the introduction of additional limits that will define how many tweets one can read per day.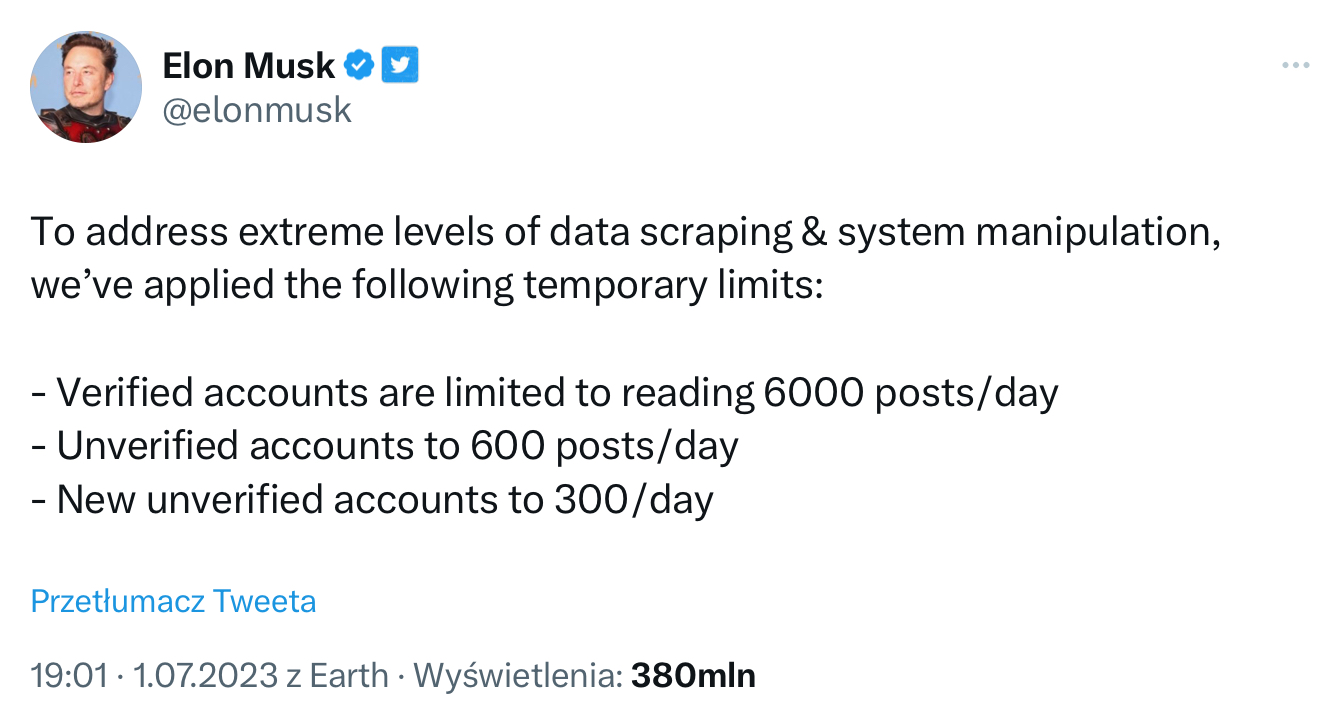 According to Elon's tweet, there will be 6000 tweets per day for verified accounts, which are the ones paying for the Twitter Blue subscription, 600 tweets for unverified accounts, and 300 tweets for new accounts. No respectable developer will pay $8 per month for access to this ridiculously small limit of 6000 tweets. However, a limit of 600 is too small even for an average user.
We'll see how everything develops, but I don't expect any changes for the better. At the moment, Twittodon doesn't work for adding new connections, but the existing database is still accessible and will remain so, at least for now.
UPDATE 12.06.2023: Nitter is back alive and with it also Twittodon, so I invite you to create a verified connection of your Twitter and Mastodon accounts while you can!
---
If you liked this post then you can support me! 🙂